Heatrae Sadia, the UK's largest manufacturer of electrical heating products, has announced a partnership with Phil Vickery MBE, which will see the former England rugby captain front a campaign to re-launch its commercial drinking water offering.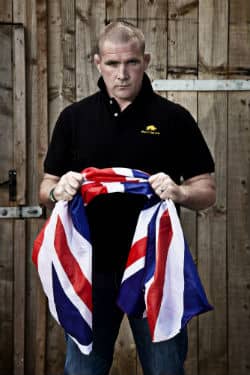 Running throughout 2015, the exclusive deal will see the rugby legend support and endorse the Heatrae Sadia brand, with a particular focus on its boiling and chilled drinking water solution, Aquatap. The partnership launch took place on 3 December 2014 at Mosimann's private dining club in London, which has seen a reduction in energy bills since fitting an Aquatap earlier this year.
Press from across the industry were given the chance to quiz the sports star about what it was like to win the Rugby World Cup in 2003 and Celebrity MasterChef in 2011.
Designed with the commercial market in mind, the Aquatap is a stylish, permanently plumbed-in electric drinking water unit that delivers instant boiling water for hot drinks and food preparation, as well as refreshing chilled or ambient drinking water if required, at the touch of a button. Simple to install and use, the Aquatap is low maintenance and can save vast amounts of time when compared to waiting for a kettle to boil. Plumbed-in supplies save energy by only delivering the amount of water required and replacing it as it is used. They are also safer than kettles and urns; because they are securely mounted onto a wall or counter top and cannot be knocked over - which is an important consideration in a busy working environment.
The commercial partnership will see Phil feature in marketing campaigns and product videos. Meanwhile, specifiers will have the chance to meet the rugby and cookery hero face-to-face at a series of regional events. Paul Rivett, managing director of Heatrae Sadia, said: "Having been capped 73 times for his country and earned the nickname 'Raging Bull' on the rugby pitch, Phil embodies all of our brand values, standing for strength, reliability, dependability, high quality and high performance. He continued, "As a keen chef and MasterChef champion, we believe Phil is well-placed to endorse a product that is used for food and drink preparation in commercial and domestic applications.  Our plumbed-in drinking water range has the ability to deliver impactful savings in both energy usage and staff time, making it ideal for commercial applications of any size".
Phil Vickery MBE said: "I am really looking forward to working with the team at Heatrae Sadia.  Having cooked in some of the best - and busiest! - kitchens in the country, I understand what a difference a quality piece of equipment can make in a high pressure work environment.  The Aquatap is one of those products that can make a real impact on the day-to-day life of staff. Coupled with its energy saving design, it's a credible investment for any business."