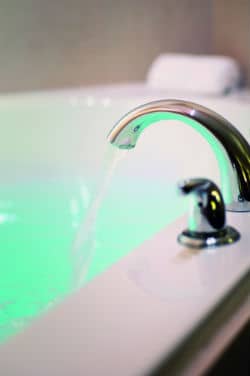 The combi boiler, once considered the preserve of smaller homes, has evolved in recent years to suit larger households, and with its compact space-saving design and virtually instantaneous provision of hot water has become an increasingly popular choice with both installers and homeowners.
However, the hot water demands of the average family are on the rise, and could become too high for a combi boiler, especially if a property has multiple bathrooms.
Far from being a purely functional space, the bathroom has grown into a living area in which to relax and unwind. According to bathrooms.com , as many as 73 per cent of us view bath time as a much-needed treat, with 65 per cent of 25-35 year-olds bathing to relieve stress. Furthermore, the recent rise in the popularity of bathroom leisure products such as wall mounted and moisture-resistant televisions indicate that the living bathroom is here to stay.
Meanwhile, as the life expectancy of the population increases, more and more households are becoming multigenerational , potentially housing both young children and elderly adults. As a result, many homes require at least one additional bathroom.
Aside from the practical benefits, creating and maintaining a luxury bathroom is also fast becoming recognized as a strong investment for the home. The estimated return on investment for a bathroom renovation can reach up to 48 per cent, with an average growth of 6 per cent in the value of the property . And last year, industry research revealed that one in 10 homebuyers want a Jacuzzi bath in their new home .
The inevitable consequence of these lifestyle changes is an increased demand on the hot water system. Modern families still expect hot water on tap, even if they have multiple bathrooms, potentially with luxury appliances.
Unfortunately, that expectation can quickly turn to disappointment if the heating and hot water system has been incorrectly specified. A beautifully designed bathroom, or an accessible wet room installed to accommodate elderly household members, can feel like a waste of money if there isn't high performance hot water to supply it.
Although combi boilers are able to offer high pressure hot water to a certain level, they are not always up to the challenge of supporting households where there is a heavy demand on the hot water system.
A more appropriate solution would be a system boiler, coupled with a high performance unvented hot water storage cylinder, such as Megaflo Eco.
Fed directly from the cold water mains, these systems are becoming increasingly popular. They provide powerful hot water for invigorating showers and fast filling baths at a rate far faster than a combi boiler can provide - plus they still perform even if more than one tap or shower is used at the same time.
For the eco-conscious homeowner, choosing an unvented cylinder offers the secondary benefit of solar power potential. There are solar thermal optimised cylinders available on the market, such as the Megaflo solar, which balance solar heated water capacity with immersion or boiler heated supply.
If installers are looking to purchase an unvented cylinder, it's worth shopping around. Given that they are storing water under high pressure, it is essential that they are strong, durable and corrosion resistant.
In the UK, cylinders are generally made from stainless steel, copper or glass lined mild steel, but Duplex stainless steel is the preferred material, as it has outstanding and unique corrosion resistant properties. It is also lightweight, giving it a strength-to-weight ratio advantage.
Customers will expect their new hot water cylinder to have a long and reliable life, so ensuring the product has an extended and comprehensive guarantee will offer peace of mind. Installers should check the terms of any guarantee offered, and make homeowners aware of any limitations hidden in the terms and conditions. Installers should pay special attention to whether onsite parts and labour costs are included, whether the guarantee is transferrable to new owners if the property is sold, and what level of support is offered.
Installers should remember that Building Regulations Approved Document G (G3) training is required to fit and service unvented cylinders. With cards valid for five years and the luxury bathroom trend set to continue, the investment is sure to pay dividends.
Available from manufacturers as well as local colleges, modules can also be taken as stand-alone courses for those intending to carry out inspection work only. At the same time, options like our bite size online courses are a great way for experienced installers to test their knowledge against the latest guidance.
Though the combi boiler remains an excellent solution for certain households, it is important to recognize that one size does not, and cannot, fit all. Dedicating the time to take each case on an individual basis can save a lot of disappointment in the long run, and ensure that every job is successful. Installers should always assess the likely hot water demands of residents in larger homes to ensure that they specify a system which can comfortably meet requirements.